[Interview] Winner's Comment / All Japan Weight Classification Judo Championship Fukuoka 2023
By EJUDO, Japanese Judo Website.
Tomoka Arakawa, -48kg: "I was excited. I enjoyed it with the intention of being taught. "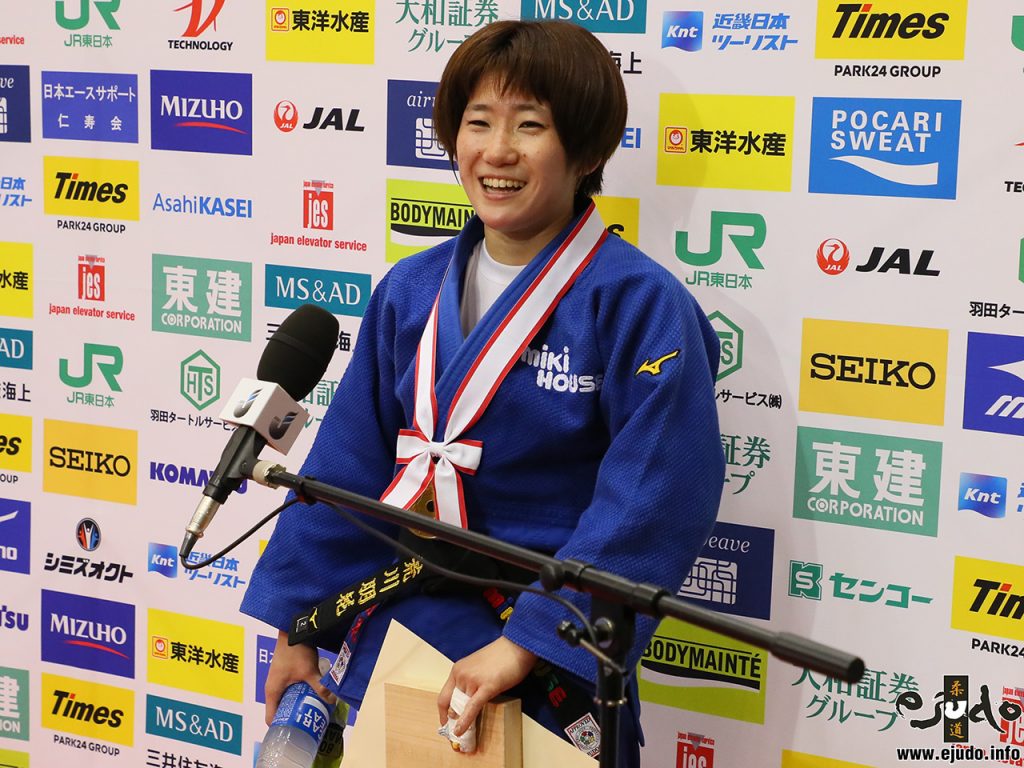 This was my first time to participate in this prestigious tournament. The people competing in this tournament are all really strong, while I have yet to win a national tournament. I fought with all my might with the intention of learning from my opponents.

I really enjoyed each and every match. I am really happy to have won. I thought I would just perform what I had done in practice, so I wasn't too nervous and was excited to compete. In the final, I faced World Junior Champion Hikari Yoshioka for the third time in my career. She was really strong and my techniques didn't work very well, but I told myself I could win and did my best.

Natsumi Tsunoda, the world champion in this weight class, was my senior at Tokyo Gakugei University. When she comes to my university, I sometimes ask her to do randori with me. Her greatest characteristic is that she enjoys judo. I want to be a player who can enjoy judo to the fullest, just like her. I have been a member of MIKI HOUSE since April and am under the guidance of Sensei Midori Shintani. I want to continue to be an athlete as hard as I can, and in the future I want to become a school teacher, making use of the qualifications I already obtained at university.
Hibiki Shiraishi, -52kg: "I worked hard to win for the second year in a row. Next time, I will win a World Tour event."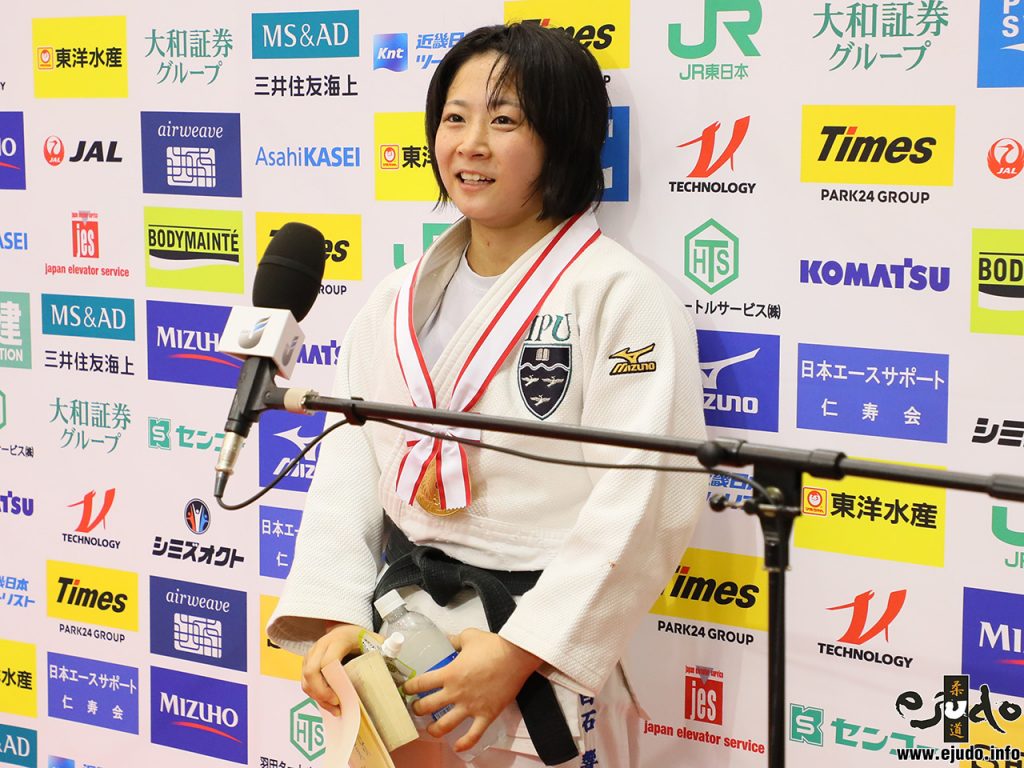 I am happy to have won the championship for the second year in a row. I dislocated my elbow at the Kodokan Cup last October, and it took me a long time to recover. Finally, I was able to return today at this tournament. The training I did on my trunk during the period when I couldn't use my arm came alive in the tournament. The final was difficult for me because I lost Shido 2. My opponent came to grab my collar in a cross Kumite and I was prevented from doing my best right Kouchi-gari and right Seoi-nage. The left Kouchi-gari I was preparing was also blocked. I was able to resolve the situation by changing my kumite strategy midway through the match. I was happy because I was able to execute the Osoto-gari I had been practicing for the first time in a match. I was able to prove that the techniques that had been effective in practice also worked in competition. Last year, I was not sent to any international tournaments, so I am very excited to be able to compete in the world tour. I also want to fight with Uta ABE. My goal is to represent Japan at the Los Angeles Olympics.


-57kg Ayami Takano: "I am both an researcher and an athlete. If I make it to the Olympics, it would be a very romantic story.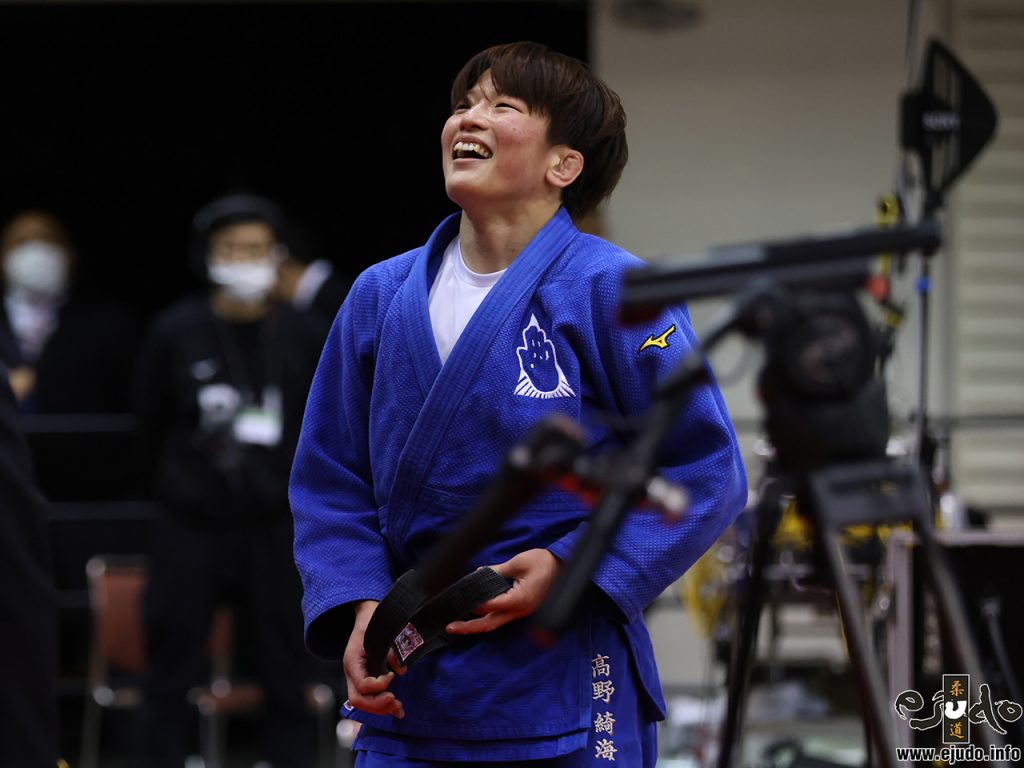 Momo Tamaki and Tsukasa Yoshida are very experienced and hold far more tactical cards than I do. If I were to plan my strategy in detail, I would not be able to match these two in terms of strategy. I devoted to sticking to my own methodology. I did the best I could, within the limits of what I could do. As the match progressed, the cheering voices in the audience grew louder and louder, encouraging me that I was now doing interesting judo. I cannot do gorgeous judo, but I want to tell judo fans that anyone can always become stronger if they practice diligently.
(Q. You changed your kumite, gripping the back, back collar, and various other parts of the body, didn't you?) The final task I should attribute to me is to "hold the judogi with two hands and throw the opponent." It is important to hold it with two hands, and where to hold it is a secondary issue. There are various output in the process.

(Q. You are a graduate student. ) I received my master's degree from Tokyo Gakugei University, and this April I started the second year of the doctoral program. My instructor is a Kendo Sensei, and his area of expertise is "perceptual judgments in interpersonal competition. I am involved in the field of "motor learning in sport psychology. To put it briefly, I am conducting scientific research on how to become stronger in judo, what is different between skilled and unskilled players, and what kind of practice methods can improve these problems. My research lives on in my competitions. I also use motion capture systems and other methods to analyze video footage of my own matches and get useful feedback. Judo is a complex exercise, so research is very interesting. Competitors do not simply apply techniques mechanically, but must adjust their movements in consideration of the situation in which they are placed and the situation of their opponents. Research is challenging. In the future, I want to be both a university instructor and an athlete. I also aim to make it to the Olympics. If an athlete like myself could make it to the Olympics, it would be a very romantic story.
Momo Tatsukawa, -63kg "I didn't want to miss the chance I was given. I didn't feel any pain during the match.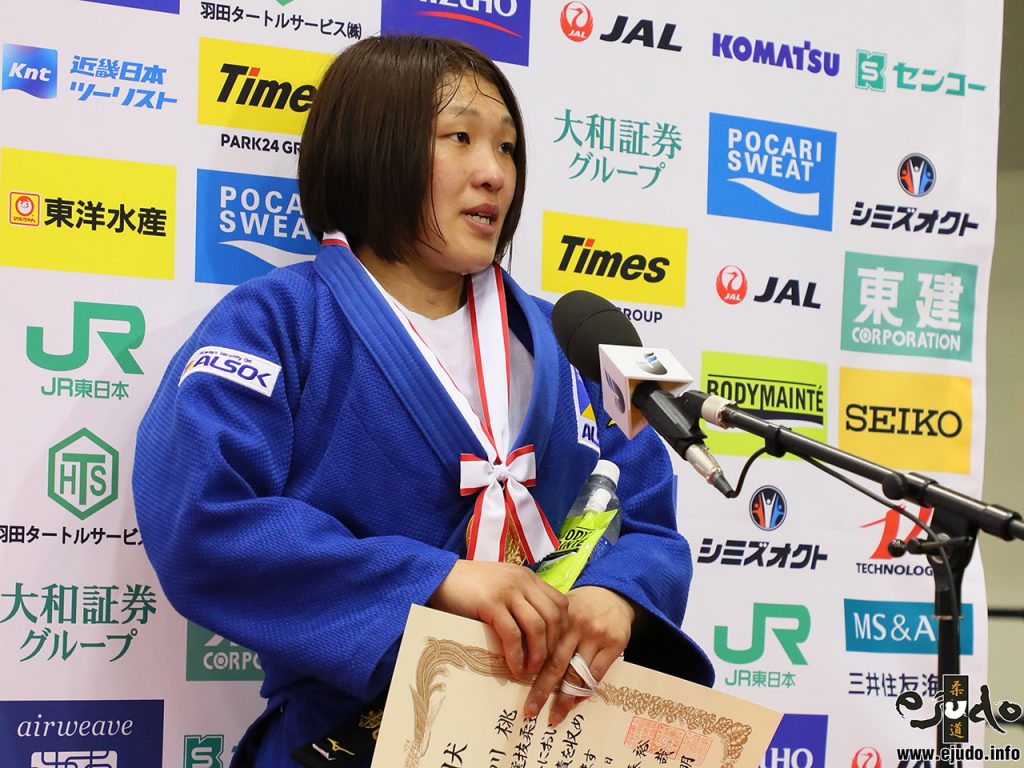 I am really happy to have won. I have won in the collegiate category, but this is my first time in the senior category. I think I finally made it to the starting line. In the semifinals, once I thought I had lost, however, the result of the match was overturned due to a direct foul loss by my opponent's illegal joint lock. I was already icing my elbow and hanging my arm for treatment, but I quickly threw away the triangle bandage and prepared for the final. In the final, I didn't feel any pain, probably because of the adrenaline. I would like to thank my elder sister, Rina Tachikawa, who visited me in the treatment room and encouraged me. I was able to win this tournament, but it is meaningless unless I keep winning. I will aim to win the World Tour competition as well. My goal is to win a gold medal at the Los Angeles Olympics.
-70kg Moka Kuwagata: "It was not a good performance. I will improve on the issues found in this match."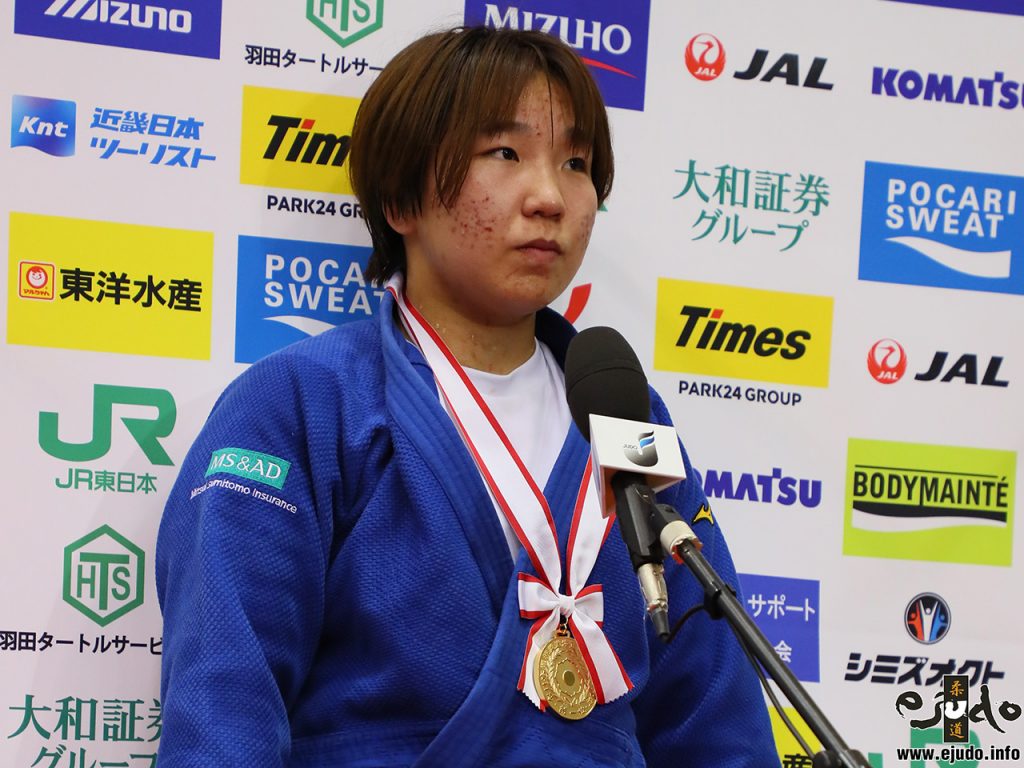 I am relieved to have won, even though it was not a good performance. I am happy to win on the stage that I had longed for when I was a high school student. However, this time, I went into this tournament with the stipulation that this competition was a passing point for me that I must win. Today, Ami Kondo sat in the coach box for me. Her precise advice helped me a lot. However, my own performance was not good, especially in the final. My opponent in the final was a left-Kumite player whose style I am not very good at. Also it was an opponent I had lost to in the past, and I couldn't get rid of the memory of that time. I could not do what I wanted to do, and I could have been judged as a loser. I found a lot of issues to work on. I still do not have the technique to reliably throw my opponent. I need to develop effective throwing techniques.

I will represent Japan in the team competition at the Doha World Championships in May. I want to do my best and lead Japan to the gold medal. I want to create a judo style that surpasses my opponent's research, in which my opponent does not anticipate where my techniques will come from. I have to exceed what I have done so far. I will prepare a variety of techniques.

I have not yet given up on the Paris Olympics, but I am aiming even more strongly for the gold medal at the Los Angeles Olympics. For that, I will win all the competitions I am sent to from now on.
-78kg Rika Takayama: "Nobody knows what will happen until the Olympics. I will not give up and keep winning.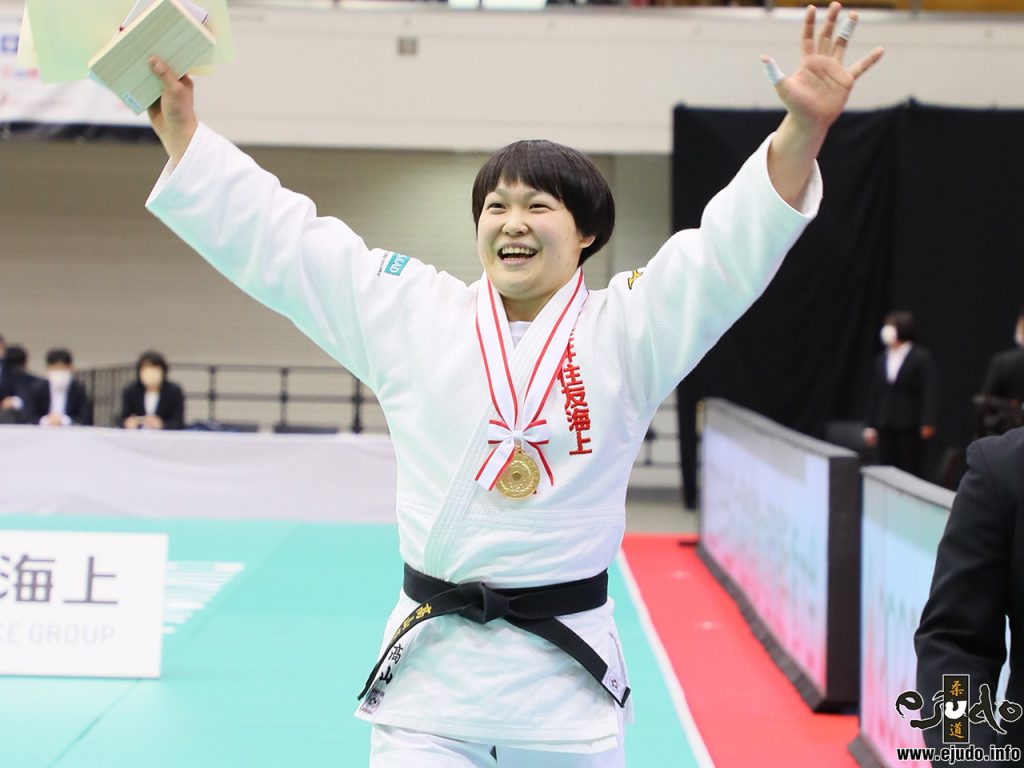 I am very happy. Yesterday, in the lightweight division, my Mitsui Sumitomo Insurance athletes lost in a early. Today it was Kuwagata and my turn. The president came to cheer us on today, so we definitely wanted to win, and I am very happy that both of us won. (Q. In all the matches you were dominant, weren't you?) I was ready for a long match in the final, but I was able to end it quickly. I am happy that I won all my matches with my best Newaza. (Q. How do you feel now for the Paris Olympics? ) People say that athletes who don't compete in the Doha World Championships have no chance of making the Olympic team. However, that is just an outsider's prediction. I believe that if I don't give up and work hard, a way will open up for me. Nobody knows what will happen. I am only aiming to win the gold medal at the Paris Olympics, and I will continue to win all competitions. My next goal is to be selected as a representative for the Asian Games and win, and to win the Grand Slam Tokyo.
+78kg Wakaba Tomita: "I was relieved to win. I have to catch up with Sone."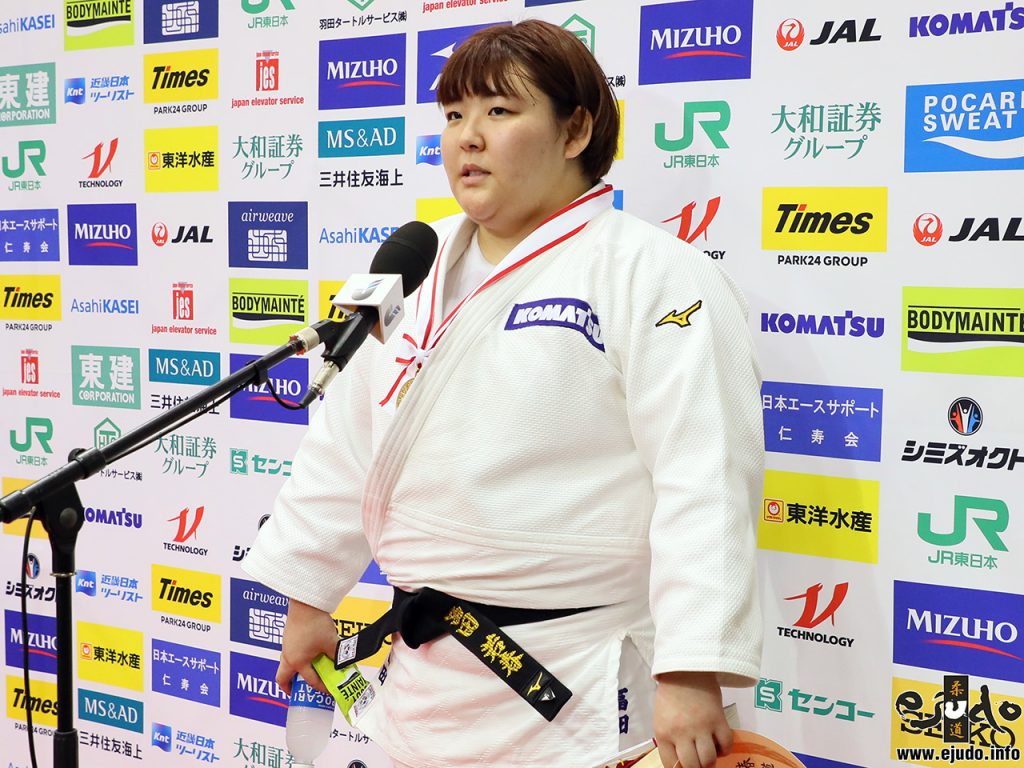 (Q. Congratulations on your fourth consecutive win.) Thank you very much, I was surprised to hear that I won for the fourth year in a row. I was under the mistaken impression that this was my third consecutive championship. I was concentrating on winning the games in front of me, and I think it was good that I was able to pitch my opponents well in all three games. I went into the tournament thinking that I was in a position where I absolutely had to win. The representative for the World Championships is Sone. I had to win here so that I could catch up with her as much as possible. I was relieved when I won. (Q. During the competition, I was impressed by your very calm and stern expression.) I try not to show my emotions during the fight. (Q Your next goal ?) To become the best in the world without giving up. My next competition will be the Empress Cup on April 23. I will make adjustments and go there as I have done so far. I want to become a judoka who will be supported by many people.