[Interview] Winner's Comment / All Japan Weight Classification Judo Championship Fukuoka 2023
By EJUDO, Japanese Judo Website.
Taiki Nakamura, -60kg: "The strategy worked in the final."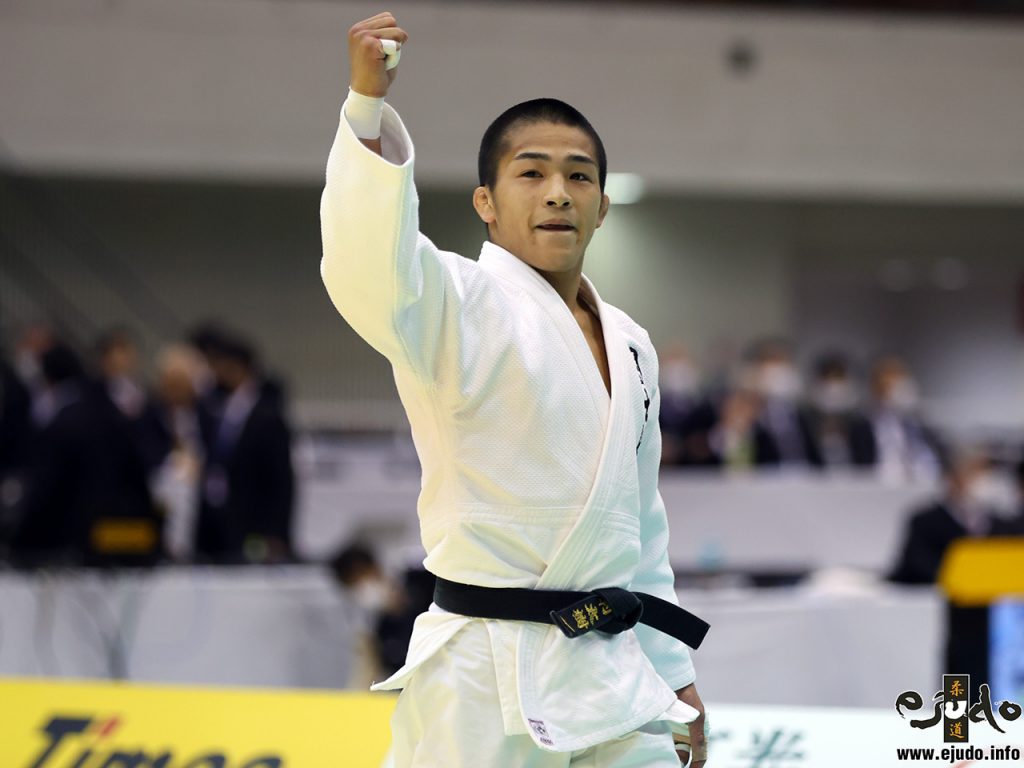 I am very happy because this is my first national title. I had not yet won a national title in junior high school, high school, or even in the U-20 category. Today I fought against top athletes such as Ryuju Nagayama, but I think I was able to complete my typical energetic judo. I was so tense that my legs are still shaking now, and I haven't felt the victory yet.

My opponent in the finals, Tateyama, I had practiced with him several times. So I knew how he fights. I had prepared several strategies against him, and one of them worked very well. Tateyama is a veteran fighter and his experience is completely different from mine. Since he is good at Kumite, I thought that I would be at a disadvantage if I played games with him for a long time, so I planned to settle the fight quickly. I used Seoi-nage as a feint and threw my opponent backward with a left Kouchi-gari, the opposite side of what I usually do. My style is to fight stubbornly, focusing on Newaza, as I did until the semifinals. The final was not my typical style. I think Tateyama was too conscious of the long fight and of the Newaza match that is my typical style. The reason I won the final was that my strategy worked well and I was able to do my typical energetic judo. The athlete I admire is Tadahiro Nomura. I want to throw my opponents with a powerful Seoi-nage like him. However, my Seoi-nage is still not very good. My future goal is to win a gold medal at the Olympics. I fully understand that it is a steep road, but I will do my best.


Taikoh Fujisaka, -66kg "It's meaningless if I don't win. I was focused on the victory itself. "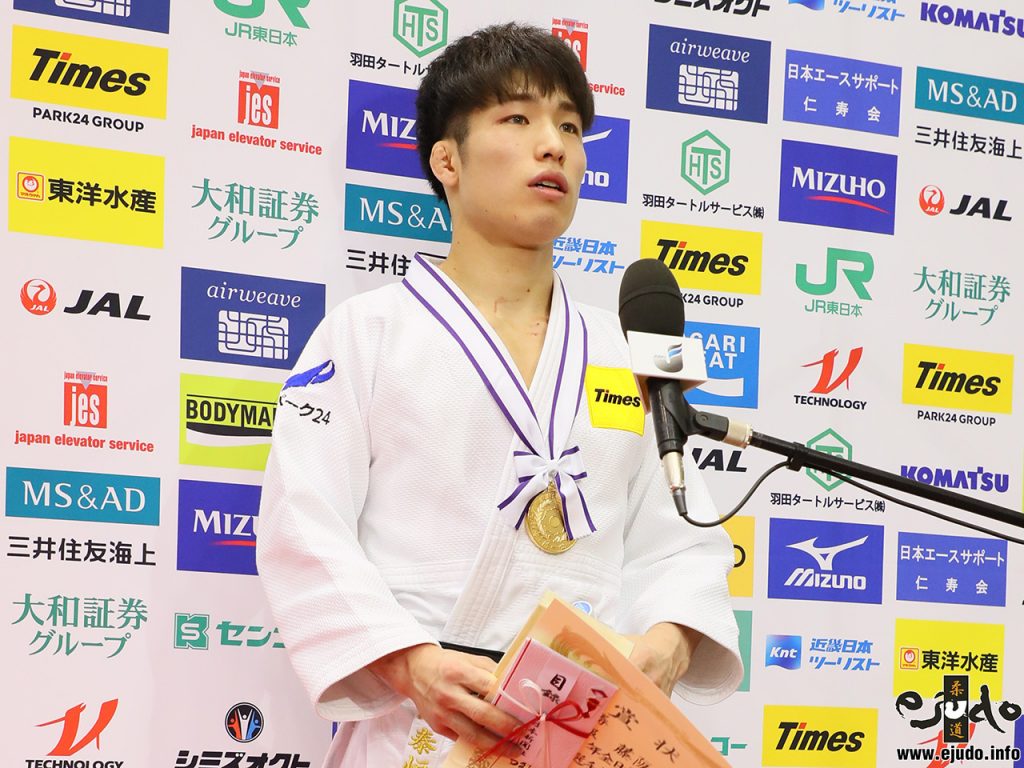 Neither Abe nor Maruyama competed in this tournament. I thought that anything other than winning would be meaningless, so I was focused on winning itself, regardless of whether the detailing was good or not. I assumed that only athletes who won would be given "a little attention" by the national team managers and coaches. I was a little relieved when I actually won.

As for the final, I had been advised by my team's coach, Satoshi Ebinuma, to continue to advance, dominate Kumite, and follow a policy of forcing the opponent to "Shido" fault first. The reason I won was that I was able to execute this strategy. (Q. I heard that you changed the balance between randori and physical training.) In the past, I would do judo in the morning and devote the afternoon to training. I decided to devote both of these to judo. By lengthening the time spent on judo, we can acquire a body control that cannot be obtained through weight training alone. It also allows us to obtain the skills and physical strength to function in real competitions, in situations that are more similar to competitions, such as fightng after fatigue. The strategy for today's final was only possible because of this balance. However, throughout the day's competition, I found many issues to improve on. I need to improve my stamina, my throwing techniques for specific points, my Kumite, and my skills in all areas. (Q. About Hifumi Abe) He is a cool, dynamic fighting star. I will concentrate on the match in front of me and fight in a muddy way in contrast to him. I want to step up by winning for sure in the tournaments I am to allowed to compete in.
Tatsuki Ishihara, -73kg: "I was able to follow aggressive judo. I want to become an absolute force like Shohei Ohno. "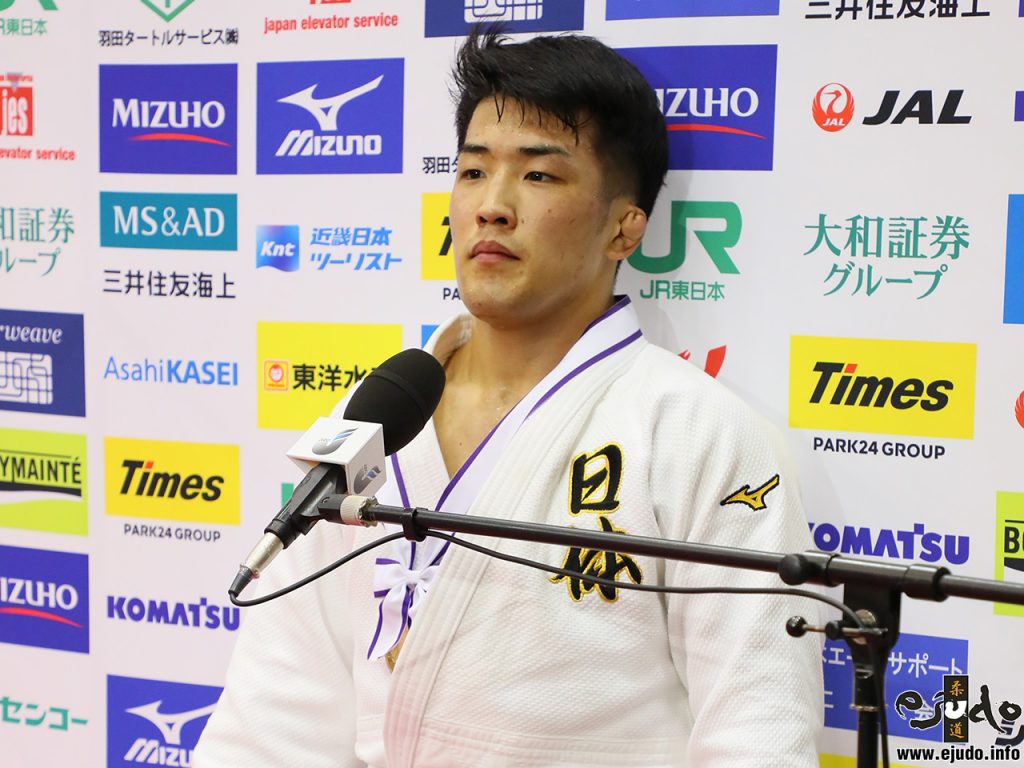 This is my first title since joining the university. I am very happy. And I still can't believe it. I would like to chew on the fact that I won the championship after returning to my hotel. I felt like a challenger because I expected to play many matches against seniors of Nippon Sport and Physical Education University, like Tsukamoto and Oyoshi whom I respect very much. I dare to fight with the intention of having them teach me judo. I think I was able to carry out my judo without any pressure.
In the finals, I thought I would lose if I didn't do anything, so I gave it my all. The nagewaza that I usually use to change the course of the fight went well. When I was cornered after receiving Shido 2, Director Tanabe told me, "You have no choice but to go," which gave me the determination to attack. Once I took the lead, I trusted the coach's words, "Attack," and worked hard to the end without defending. The coach's words helped me. (Q. What is your next goal?) My judo is just offensive judo. While overcoming my weaknesses, I want to build up my judo that no one can beat. I think I will be sent to international competitions, so I want to win out and aim for another higher level. In the future, I would like to become an absolute force like Shohei Ohno.


Yuhei Oino, -81kg : "This win is just a passing point."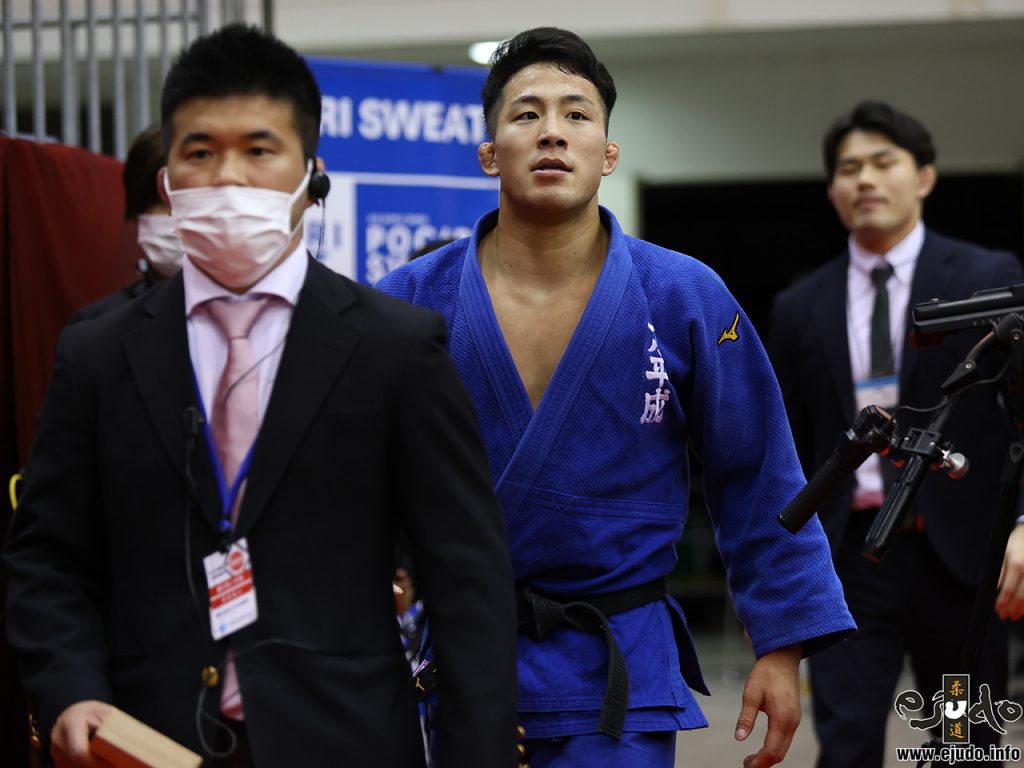 Q. Fukuoka, where this venue is located, is your hometown. You received a lot of cheering from the crowd.

My high school teachers, club juniors, and many other people came to cheer me on. I am happy to have won in front of them. I want to say thank you to them.

Q. In the final, it was your third fight with Kugimaru.

My plan was to keep attacking and take the initiative, and then throw as a result. Kugimaru was the opponent I lost to in the first round of the Kodokan Cup. I was determined to win this time. After losing at the Kodokan Cup, I re-analyzed my judo carefully. Together with my coach and manager, I thoroughly scrutinized my strengths and weaknesses and considered the causes of my defeat. This successful verification led to today's victory.

Q. You are a first-year student of the Teikyo Heisei University Judo Team, and have served as its captain since your first year. How did you enter the school?

When I was a senior in high school, I lost early in the National High School Championships in March. I couldn't catch the attention of the scouts, but Sensei Takashi Ono invited me to join. I was worried about whether I could be strong on a new team with no seniors, but I felt Sensei Ono's enthusiasm and was convinced he would make me strong. Coach Yuki Sannohe, who sat in the coaching box with me today, was tremendously strong and threw me around a lot, training me. Also, my 17 colleagues who enrolled with me were not weak and became good practice partners. being the captain since my freshman year also helped me grow as a person. even as a freshman, I could be responsible for the team's results. There are stronger players in other universities and club teams, but there are more important things than training with them. The most important thing is to think about how I can become stronger in my current situation. Thinking itself trains me. I am still constantly thinking about how I can become stronger now.

Q. What are your strong points?

Ashi-waza and Kumite, and also my "Uke" (*how to catch the opponent's technique) Strength. Fighting with tenacity is my strength. This was well demonstrated today. On the other hand, My weakness is that I don't have sharp throwing techniques yet, which I continue to improve. Right now I am working on refining my Uchi-mata in particular. (Q. Did winning the championship give you confidence? ) No. I won the championship, but I am not very confident. However, I believe that lack of confidence will give me the strength to pursue my own growth.

Q.  Gold medalist Takanori Nagase is from Nagasaki Nichidai High School. You are the same. What do you think about him?

My goal is to win the Olympics. I will do my best to beat Nagase, a senior gold medalist, so that I can achieve my goal. This victory is just a passing point.
Goki Tajima, -90kg : "I just tried to express what I was good at."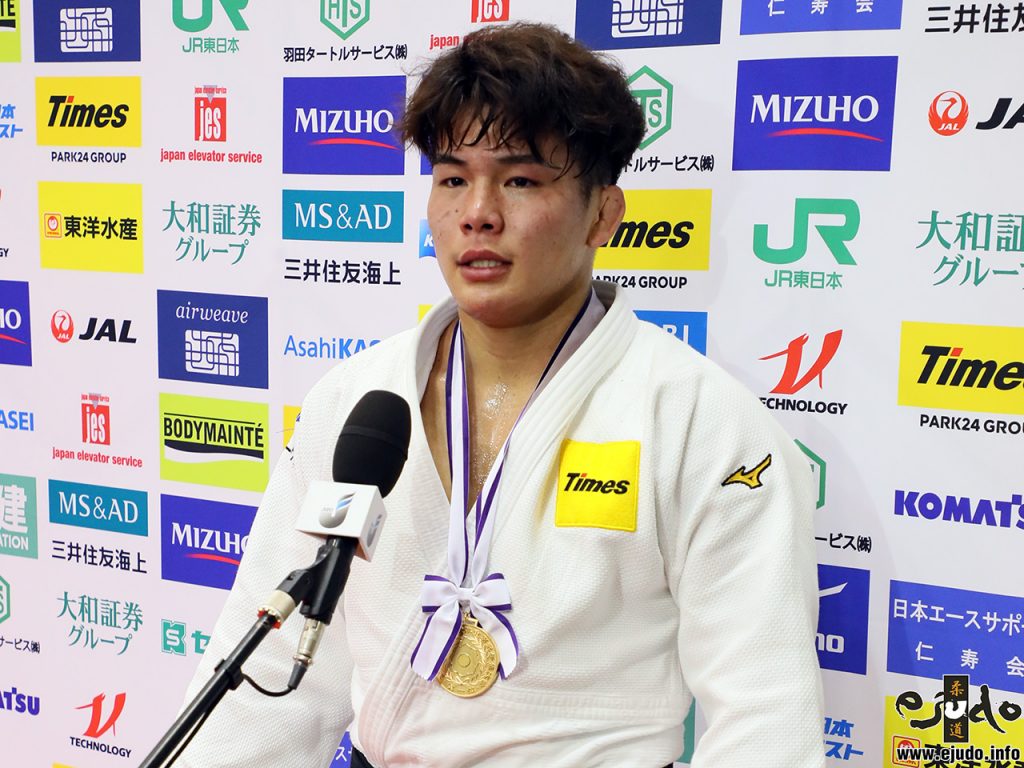 Q.  You won for the first time in your third final appearance in this tournament.

I had more passion for this event last year than this year. I was convinced that if I did not win here, I would not be able to break into the race for the Olympic team. So I was very shocked that I lost and that my challenge was over. I thought about retiring from competition. However, my thinking changed when various people told me, "I like your judo.
The value of my existence is not only to become an Olympian. If people who see my judo find it interesting, or if children are inspired by my throwing techniques and want to try judo, that is enough for me. Once I realized this, my fighting style changed. I began to devote resources to bringing out my best. I focused on showing my goodness rather than on winning itself. This naturally led me to focus on improving the quality of detail, which in turn led to better results. It was a good cycle.

Q.  How do you feel now that you finally won?

My goal is to give my best in each and every match, and to fight without regrets. I focus on details, not results. Therefore, I don't feel any special emotion just because we won. As in the past, I will try to find issues from today's match and work hard for the next opportunity. This win was not revenge against Mashiyama, whom I lost to twice. I regard this win as a "passing point.

Q.  Please look back on the final.

I had fought Mashu Baker several times and won only once, but all the others were complete defeats for me. I was not allowed to show my strengths. This time, I am happy that I was able to show my own style and win. Regardless of the situation, for example, whether it was still early in the game or in GS overtime, I was aware that whenever I felt I had a chance, I would not hesitate to make a throw. It became an aggressive match in which both players went for the throw. It was a tense match, as if we were slashing at each other with Japanese swords, so it was a lot of fun to play.

Q.  You are in the position of chasing Sanshiro Murao, the World Champion.

I have to win here to get a chance to compete in the international tournament. Furthermore, only if I win the international tournament will I have the right to chase Murao. Today was a battle I could not lose.

Q.  What is your next goal?

It is as I said earlier. We have to put all our energy into the one match in front of us.

Q.  The All-Japan Championships are coming up at the end of March.

This is the stage of my dreams, so I want to go back to my childhood and enjoy it. I have been trying to qualify since I was a university student, but I never made it through. This is the first time I will be able to participate in the main competition. I am very honored. I want to give a good performance on the highest stage. I have always liked team competitions, and I have been good at weight-less competitions since I was a high school student. I think I can have an interesting match.
Aaron Wolf, -100kg : "I get better results when I'm on the edge. I was able to create a good mindset."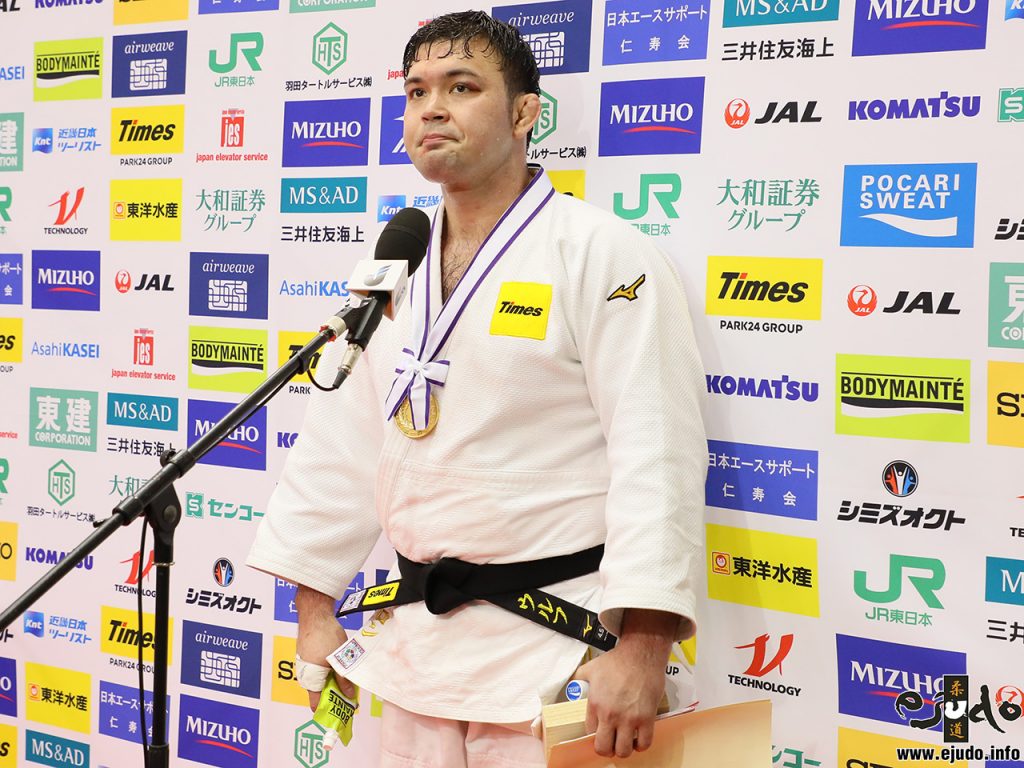 Q.  Congratulations on your victory.

Thank you very much. If I had not done so, I would have ended up as "an interesting person who is a little strong in judo. I fought with the determination to win here and make a comeback. I can't say that it was a great victory, but I am relieved that I won a title and that I have another chance. I told myself that if I didn't win here, I would lose my second consecutive Olympic title. I am the type of person who can get better results under pressure. This time, I was convinced that if I lost here, my career would be over. In other words, I was well prepared. I was able to create a good mindset, and that was the reason for my victory.

Q.   How was your condition today? There were some stern looks on your face.

The weight adjustment, which had been considered a problem, went well. However, I had some cramps during the match today, and I was not able to make good adjustments yet. That may have shown in my facial expressions. However, it was a good experience for me to win in spite of the hardships. (Q. Your performance was not good after the Olympics. ) I think I was on the TV show a little too much. Today I was able to prove my strength. I want people to think, "Judo is strong, too. "

Q.  You struggled from the first round. Some thought it was a surprise.

Kumasaka and I usually do randori together, so we know each other's tactics well. He has good counter techniques to Ouchi-gari and Osoto-gari, and he is an honest fighter who steadily returns each technique one by one. I struggled a lot. It was good that I won despite my fatigue. However, it will be difficult to win on the world stage if I struggle from the first round onward. I need more quality preparation. I would like to develop the stamina to beat anyone in the GS overtime, as I did at the Tokyo Olympics. Then I can play a better match even in the first 4 minutes of the main competition. I want to develop a good physical condition.

Q. Green, who fought in the final, is a junior at your childhood Dojo.

I train with him regularly and is also a junior at my Dojo. I was deeply moved to be able to fight in the final of such a prestigious tournament. However, I could not lose because of my seniority. He tried to control the match with his Kumite, but I took advantage of that Kumite and threw it. My pressure was also the reason for the success of that Ouchi-gari.

Q. What is your enthusiasm for the future?

I think that winning here will help me to be sent to World Tour events. I don't know how many times I will be dispatched, but I will prepare to achieve good results there.

Q.  Any comments on the Paris Olympics?
Only a one-time Olympic champion can aim for a second consecutive Olympic victory. I will prepare well and go to the Olympics in the best possible condition with the pride that I have the right to aim for a second consecutive victory.

Q.  Thank you very much. How do you feel now?

I am relieved, and now I want to drink alcohol, which I have been refusing to do. I think I will go out on the streets of Fukuoka.
Hyoga Ota, +100kg "Positive thinking led me to victory."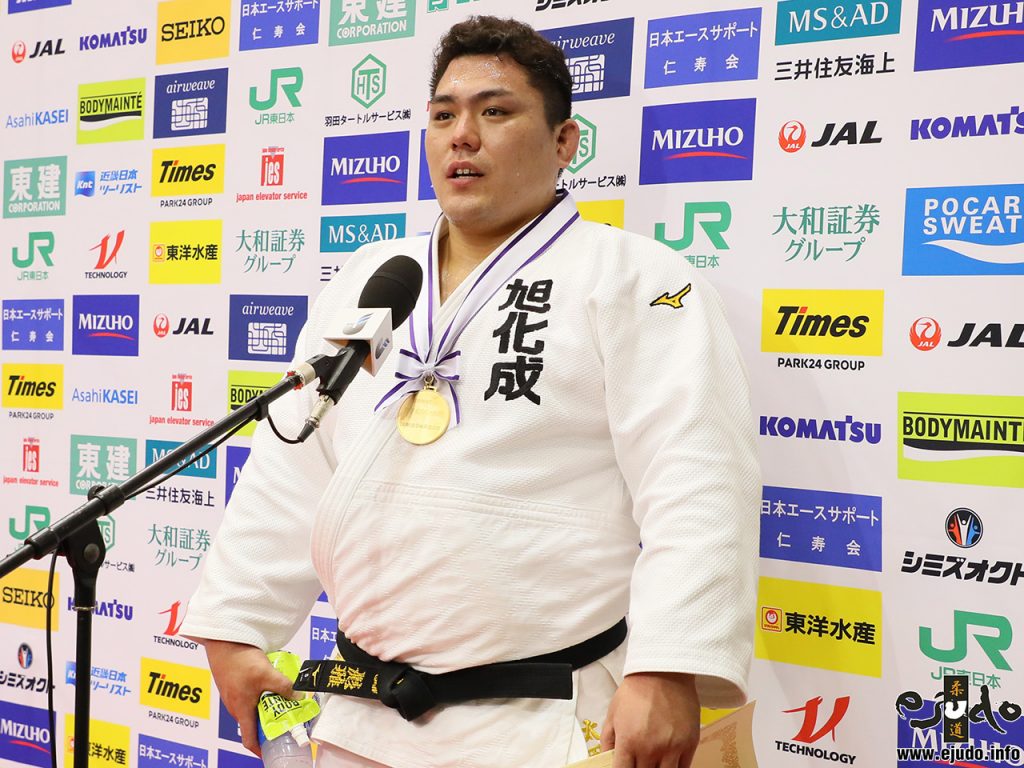 Q.  Congratulations on your first win in your seventh attempt.

Thank you very much. It was thanks to the support of many people that I was able to win. Thank you very much. I positioned myself as being in a position where I must win the championship because the current top runners, Saito and Kageura, were not competing in this tournament. Nakamura, who competed in the final, is a junior at Tokai University and one of my training partners. As a senior, I knew I could not lose. In the end, it was not my style, but I am glad that I was able to win by Ippon. (Q. In the over 100kg weight class, four out of the eight competitors in the tournament are from Tokai University, right?) Yes, they are. Since I was a student, many of my seniors from Tokai University have participated in this tournament. Today, I felt again that I am training everyday at the strongest university in Japan.

Q.  How did you feel today and what was the reason for your victory?

Positive thinking. My weakness was my mentality. In the past, my thinking was pessimistic and defensive. But since I started thinking positively, I have been able to get good results. In the actual game, whether the detailing became a little bit more defensive or aggressive, the consequences of the scenario ahead changed dramatically. I would like to be able to control my mind even more in the future.

Q.  What are your observations about the competition for the Olympic team?

I believe that there is a big gap between me and the top two players. For me, from now on, everything is a battle that I cannot lose.

Q.  What is your game plan for the future and what is your next goal?

First, I want to win the All-Japan Championships coming up at the end of this month. After that, I am not sure yet, but I will try to win all the matches I can participate in. There is not much time left until the Olympics, and I am in an extremely disadvantageous position. Still, I believe that this struggle will lead me to the Olympics, and I will train hard every day.

Q.  What are your hopes for the All-Japan Championships at the end of March?

There will be various types of competitors, not only heavyweights. It will be difficult to win against them, but I will do my best to win the championship for the second time.