[NEWS] Wolf's third win heralds his resurgence. Tajima and Ota won their first titles / All Japan Judo Championships Fukuoka 2023
by EJUDO, Japanese Judo Website
On the final day of the All Japan Judo Championships Fukuoka, the men's competitions were held in three weight classes. This tournament is held to determine the best judoka of the year in each weight class.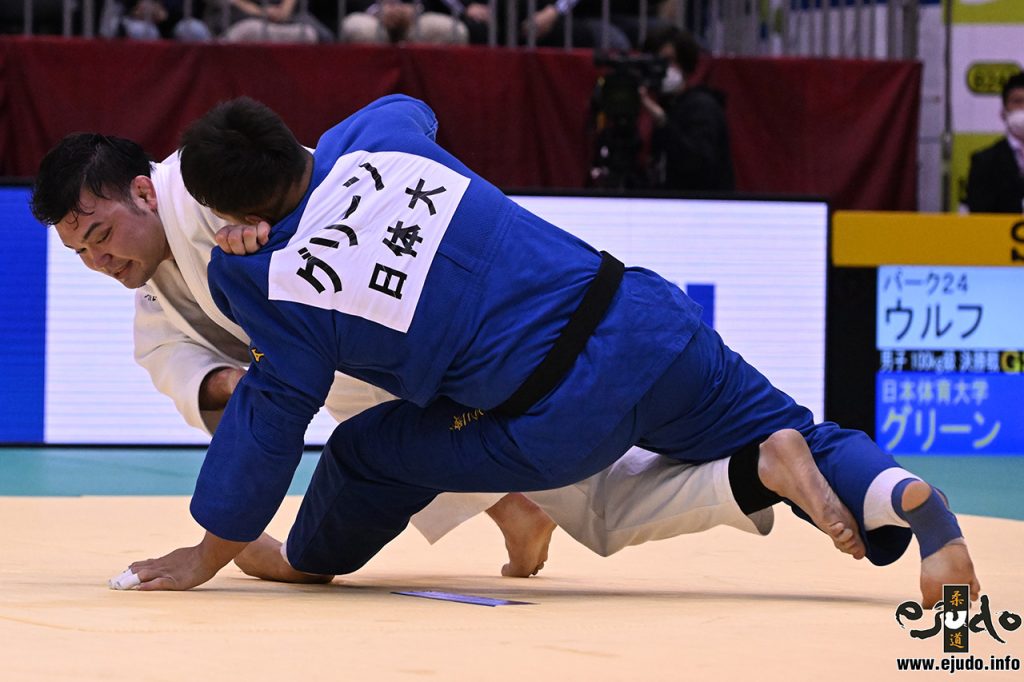 The men's -100kg weight class was won by the top seed, Wolf Aaron (Park 24). This was his third win, following wins in 2016 and 2017. Wolf had been in a slump after the Tokyo Olympics. His physical condition was not up to par, and he had lost three consecutive tournaments: third place at the Kodokan Cup in October, and first-round losses at the Grand Slam Tokyo and World Masters in December. The process in this tournament was not overwhelming either, but he was able to win by executing his throws at key points. In today's first round, he was behind Shido 2 vs. Shido 1 after a series of attacks by Koki Kumasaka (SENKO). Wolf was exhausted. However, he threw with Uki-waza at 2:07 of the GS overtime to earn a "Waza-ari". In the semifinals, he was also led by Kanta Nakano (Waseda Univ.) by Shido. Nakano was a strong opponent who was in very good form today. However, Wolf won by Waza-ari with an irregular Hikikomi-gaeshi at 3:16.

Wolf faced Kaito Green (Nippon Sport Science University) in the final. He was unable to set up his kumite and was behind Shido 2 to Shido 1 in this match as well. The match went into GS overtime. However, at 4:56, Wolf inserted his left Tsuri-te into his opponent's left lapel and knocked him down with a left Ouchi-gari, earning a "Waza-ari".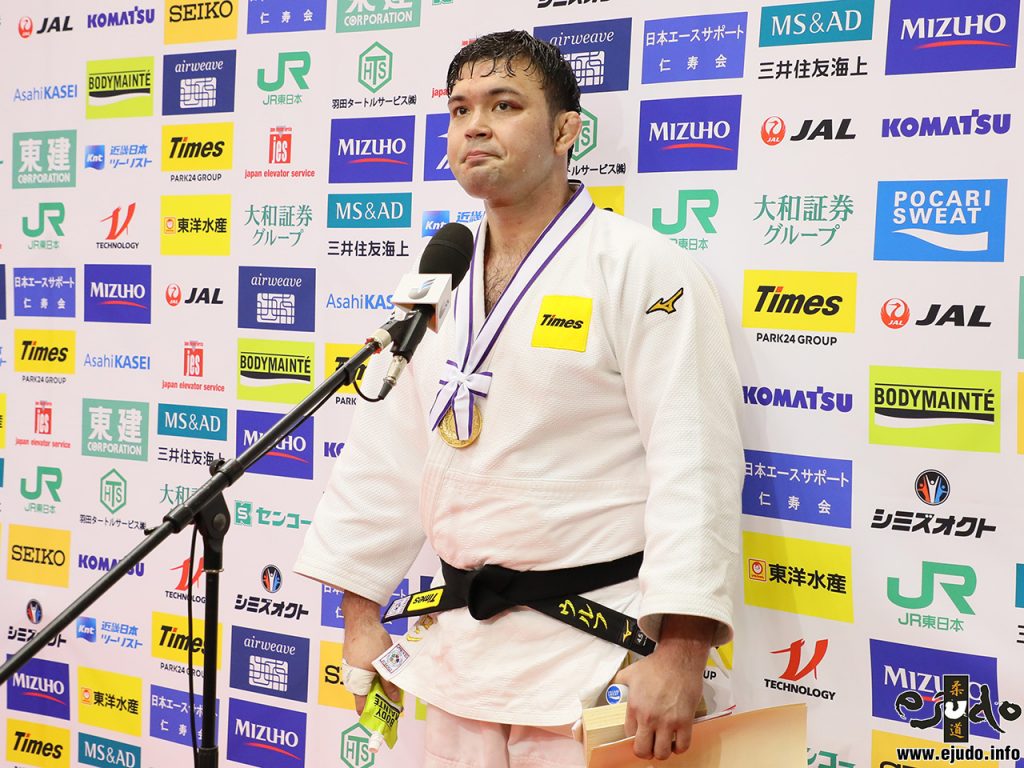 In an interview immediately after the match, Wolf commented. "I am relieved to have won, even though my performance today was not good. People criticized me for appearing too much on TV shows, and if I had lost I would have lost my position as a top player because people would have said I was 'a little bit strong in judo, an interesting person'". He also expressed his desire to join the Japanese national team for the Paris Olympics. He said, "Only an Olympic gold medalist has the right to win two Olympic gold medals in a row. I am aiming for Paris," .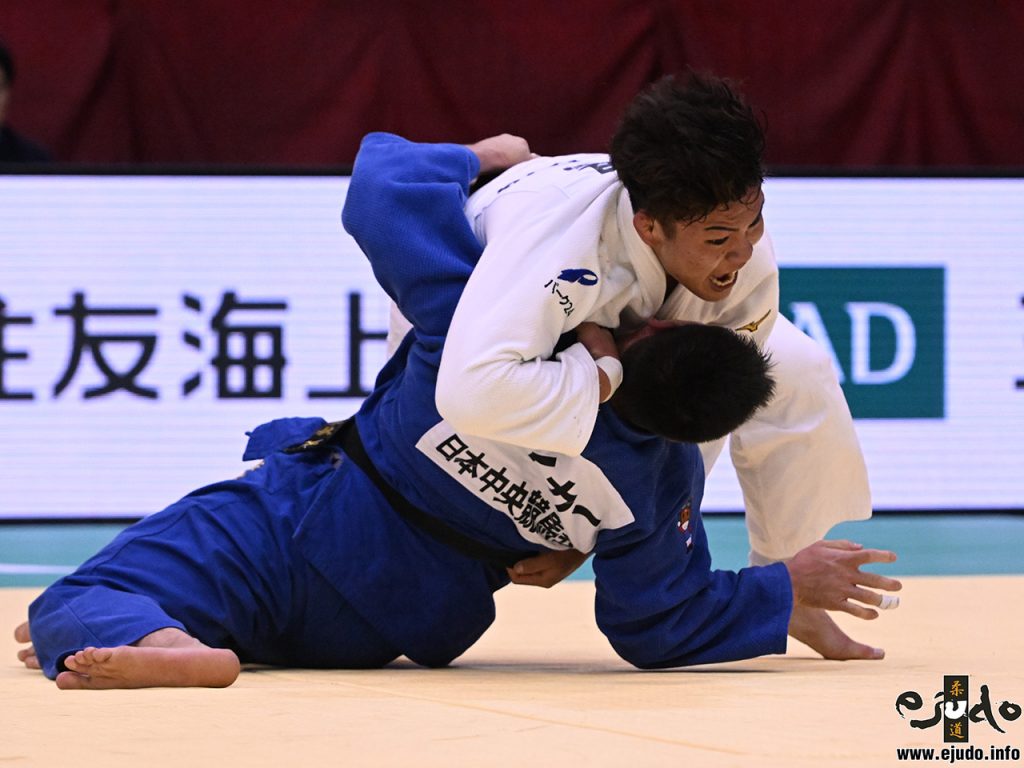 Goki Tajima (Park24) won the -90 kg weight class. This was his third straight week of battling: he competed in the Tokyo Championships on March 19, and the Grand Slam Tbilisi in Georgia on March 25. But his moves were rather good. From the first round, he showed a series of sharp moves: in the first round, he beat Kaihori Youya (Nippon Sport Science University) by Kosoto-gake "Ippon", and in the semifinals, he beat Kenta Nagasawa (Park24) by Left Seoi-nage "Waza-ari" to advance to the finals. The final match against Mashu Baker was a revenge match for the Kodokan Cup semifinal. Tajima attacked with a so-called "yagura-nage" in the 24th second of the GS overtime. He held the rear belt with his left Hiki-te and the side collar with his right Tsuri-te. When Baker responded with a right Kosoto-gake, Tajima dodged with good bodywork and covered his opponent's body while holding his neck with right Tsuri-te. The match ended with a "Waza-ari" declared for this Sumi-otoshi.

Tajima was moved to tears after the victory. This was a rare sight for the cool-headed Tajima. His tears reminded us of his year of struggle when he failed to win an important match and was eliminated from the national team. It was a splendid comeback.
Tokyo Olympics representative Shoichiro Mukai (Tosin Kogyo) was eliminated in the first round. He fought Kazuki Nakanishi (Asahi Kasei) and lost Sumi-gaeshi "Waza-ari" and Sode-tsurikomi-goshi "Ippon" in quick succession. After the match, he said, "I will change my weight class and aim for the Paris Olympics." on interview. He will enter the -100kg weight class in the All-Japan Businessman Individual Championships in August.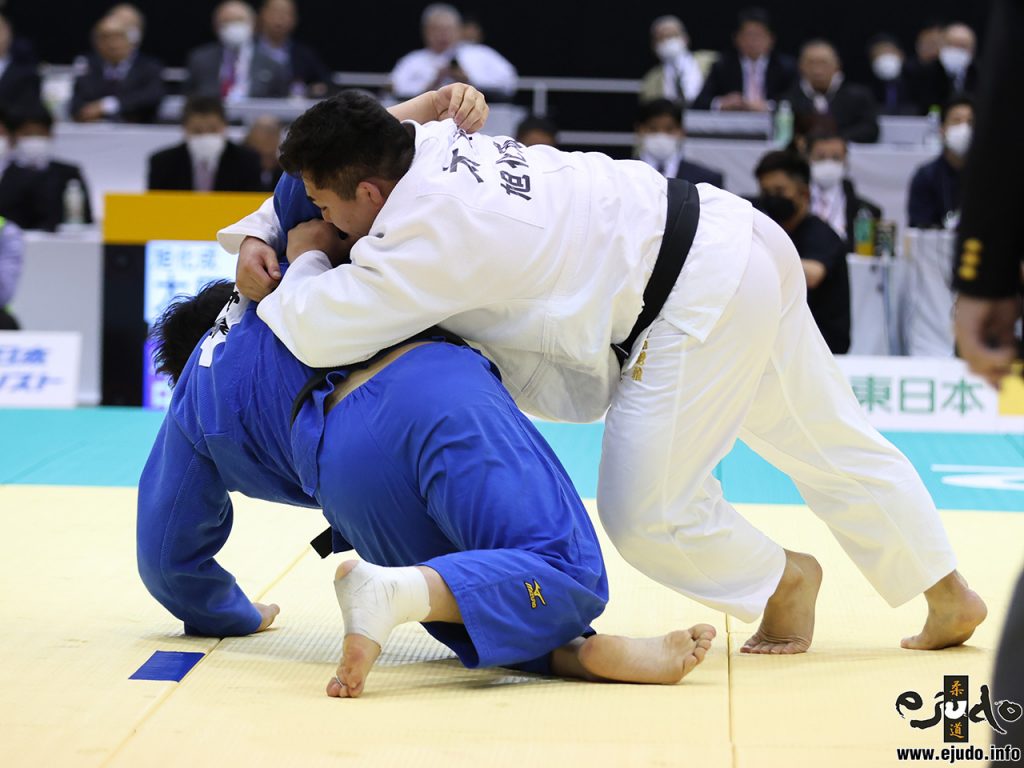 Hyoga Ota (Asahi Kasei), the top seed in the over 100kg division, won the championship for the first time.
In the first round, he eliminated Kodokan Cup champion Tsubasa Takahashi (Kokushikan Univ.) in 3:28 with three times Shido. It was a solid match. This match was a revenge match for the Kodokan Cup semifinal. In the following semifinal, Ota threw Yuki Isshiki (Japan Central Racing Association) with an Ouchi-gari to take the Ippon. His opponent in the final was last year's World Junior Champion Yuta Nakamura (Tokai University). Ota is also a graduate of Tokai University. Ota said that he always trains with him. Both players knew each other's tactics well, and the fight lasted 6 minutes and 2 seconds. The long time game ended with a right Kouchi-gari "Ippon" by Ota.

Results of all matches in each weight class are as follows.
-90kg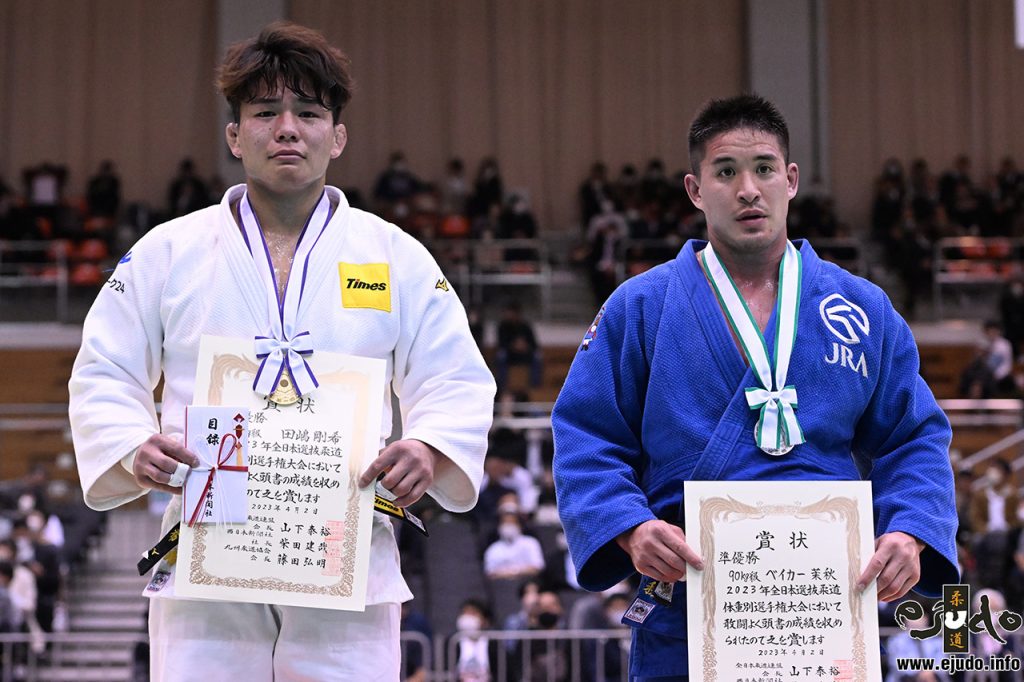 (8 Judoka)

Results
1.TAJIMA, Goki
2.BAKER, Mashu
3.NAGASAWA, Kenta
3.NAKANISHI, Kazuki
5.KAIHORI, Haruya
5.ORYOJI, Ryusei
5.SHIRAKAWA, Yoshiaki
5.MUKAI, Shoichiro

Round 1
TAJIMA, Goki [W] Kosoto-gake (3:00) [L] KAIHORI, Haruya
NAGASAWA, Kenta [W] Hansoku-make / Shido 3 (GS2:57) [L] ORYOJI, Ryusei
BAKER, Mashu [W] Awase-waza / Sasae-tsurikomi-ashi & Yoko-shiho-gatame (3:02) [L] SHIRAKAWA, Yoshiaki
NAKANISHI, Kazuki [W] Sode-tsurikomi-goshi (3分44秒) [L] MUKAI, Shoichiro

Semifinals
TAJIMA, Goki [W] Waza-ari / Seoi-nage [L] NAGASAWA, Kenta
BAKER, Mashu [W] Waza-ari / Hikikomi-gaeshi [L] NAKANISHI, Kazuki

Final
TAJIMA, Goki [W] Waza-ari / Sumi-otoshi (GS0:44) [L] BAKER, Mashu
-100kg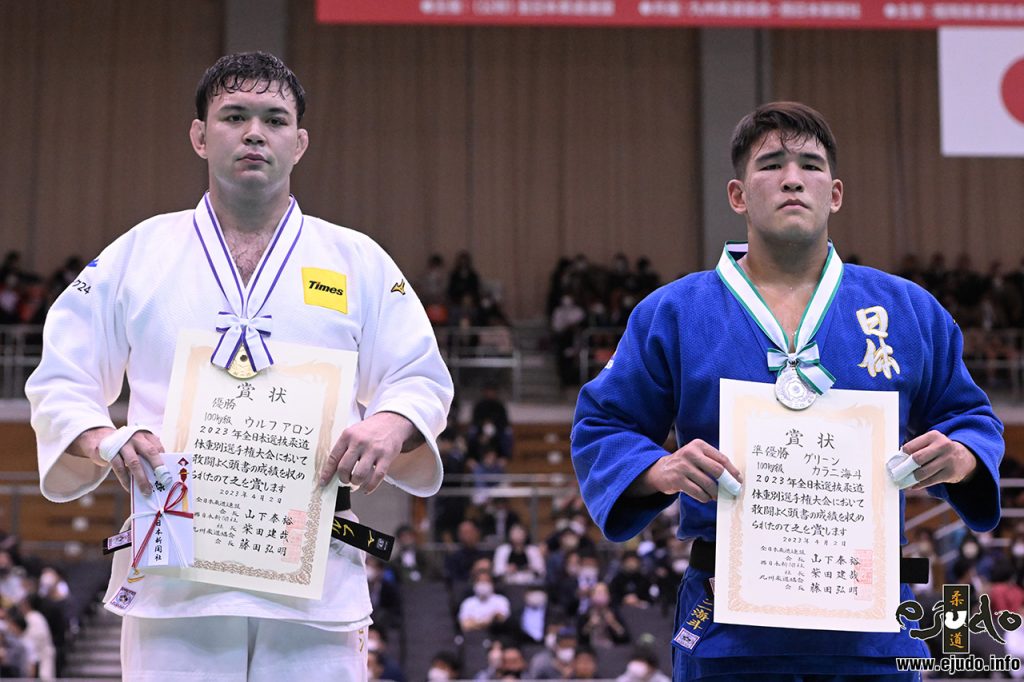 (8 Judoka)

Results
1.WOLF, Aaron
2.GREEN, Kalani Kaito
3.NAKANO, Tomohiro
3.UEOKA, Kotaro
5.KUMASAKA, Koki
5.ARAI, Dota
5.YAMASHITA, Kaiki
5.KAMIGAKI, Kazunari

Round 1
WOLF, Aaron [W] Waza-ari / Uki-waza (GS2:07) [L] KUMASAKA, Koki
NAKANO, Tomohiro [W] Osoto-gari (0:13) [L] ARAI, Dota
UEOKA, Kotaro [W] Hansoku-make / Shido 3 (GS4:08) [L] YAMASHITA, Kaiki
GREEN, Kalani Kaito [W] Waza-ari / Hikikomi-gaeshi [L] KAMIGAKI, Kazunari

Semifinals
WOLF, Aaron [W] Waza-ari / Hikikomi-gaeshi [L] NAKANO, Tomohiro
GREEN, Kalani Kaito [W] Uchi-mata (0:50) [L] UEOKA, Kotaro

Final
WOLF, Aaron [W] Waza-ari / Ouchi-gari (GS0:56) [L] GREEN, Kalani Kaito
+100kg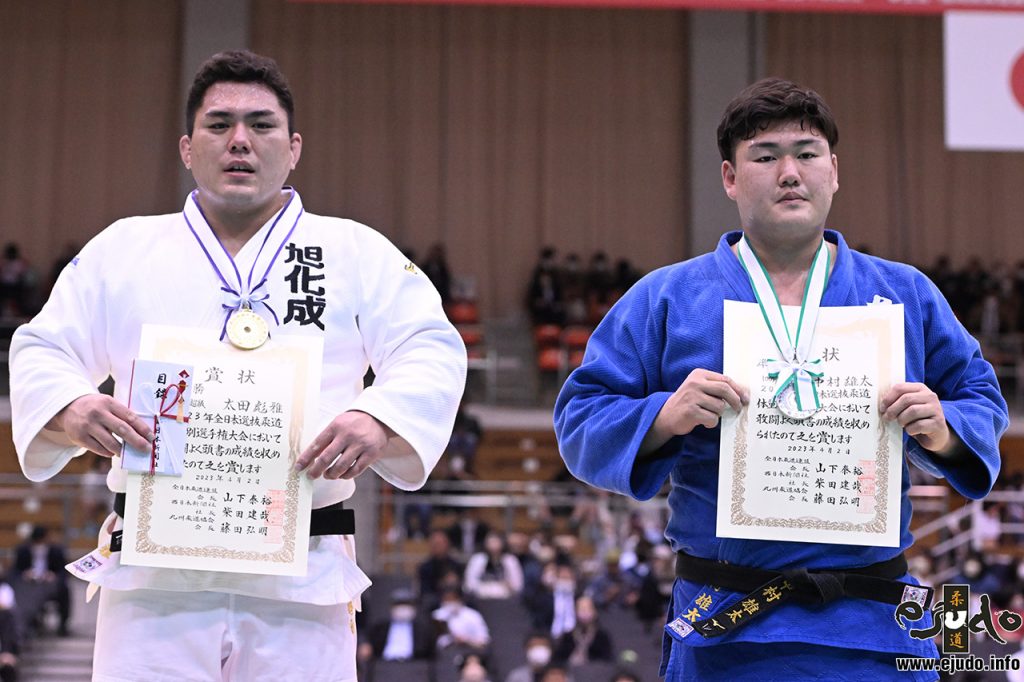 (8 Judoka)

Results
1.OTA, Hyoga
2.NAKAMURA, Yuta
3.ISSHIKI, Yuki
3.KAGAWA, Daigo
5.TAKAHASHI, Tsubasa
5.MATSUMURA, Sosuke
5.OGAWA, Yusei
5.NAKANO, Kanta

Round 1
OTA, Hyoga [W] Hansoku-make / Shido 3 (3:28) [L] TAKAHASHI, Tsubasa
ISSHIKI, Yuki [W] Waza-ari / Ashi-guruma [L] MATSUMURA, Sosuke
KAGAWA, Daigo [W] Osoto-otoshi (GS0:29) [L] OGAWA, Yusei
NAKAMURA, Yuta [W] Awase-waza / Tai-otoshi & Kesa-gatame (2:26) [L] NAKANO, Kanta

Semifinals
OTA, Hyoga [W] Ouchi-gari (1:11) [L] ISSHIKI, Yuki
NAKAMURA, Yuta [W] Hansoku-make / Shido 3 (3:35) [L] KAGAWA, Daigo

Final
OTA, Hyoga [W] Kouchi-gari (GS2:02) [L] NAKAMURA, Yuta